Community Land Trusts
The Wessex CLT Project* is hosted by Wessex Community Assets. It was set up in 2010 to help communities deliver affordable homes and establish CLTs. The Project has now helped to establish 17 Community Land Trusts and some of their logos are shown below. A programme of 24 affordable housing schemes will provide 120 homes before or during 2015 with further 120 by 2018. Although CLTs have independently developed very inspiring housing schemes in our area - e.g. Buckland Newton, High Bickington, East Portlemouth - we have found the most popular approach to be a partnership between the CLT and a Housing Association. Pictures of progress with current schemes are shown below. 
* Formerly known as the Somerset, Devon and Dorset CLT Project
A selection of logos designed by Wessex-supported CLTs:
Complete and occupied affordable Homes in Hemyock; a partnership between Upper Culm CLT and Hastoe Housing and an award winner at the Community Council for Devon's 2014 conference.
Completion of 10 affordable homes by Norton sub Hamdon CLT and Yarlington Housing. The occasion was marked by the planting of a 'Yarlingtion Mill' apple tree; the first of many for the CLT's adjacent community orchard.
Norton sub Hamdon's Community Shop opens for business. 
Queen Camel CLT is developing 20 affordable homes with Hastoe HA, some with stone and timber cladding: 
Corry Valley CLT and Yarlington Housing Group. Corry Valley was also an award winner at the Community Council of Devon's conference 2014. 
The Symene CLT/Hastoe scheme. There were no sites available in Symondsbury so this land was provided just over the parish boundary in Bridport and will be prioritised for people withn a connection to Symondsbury. Compared to private sector rented properties many of the residents were previously living in, rents will be 25% less, heating bills 75% less and of course there will be security of tenure. Behind the homes is a community garden and space for an allotment for each resident.
The completion of 14 homes at Neil's View, Maiden Newton; a project by Upper Frome Valley CLT with their partner, Synergy Housing. 
Good progress for Bradworthy CLT and Aster Homes, and the CLT's award from the Community Council of Devon. 
Site clearance in Toller Porcorum. Working with Aster Homes, Toller Porcorum CLT will benefit from a new post office as well as 6 affordable homes. 
Marshwood CLT and Hastoe. Construction well underway. 
In 2013, Christow CLT won the Community Council of Devon's Rural Housing Award for the most effective community group. In November 2014 the ground was broken at a ceremony including interviews by children from Christow school of the Trust's directors. The CGIs show how the proposed will look when complete. Christow CLT and partner Teign Houisng are developing a site in the village for 18 homes; the land kindly donated by Teignbridge DC and strong support provided by the Dartmoor National Park. It will a scheme of two 'firsts' for the Park: the first CLT scheme and the first Passivhaus scheme in the Park.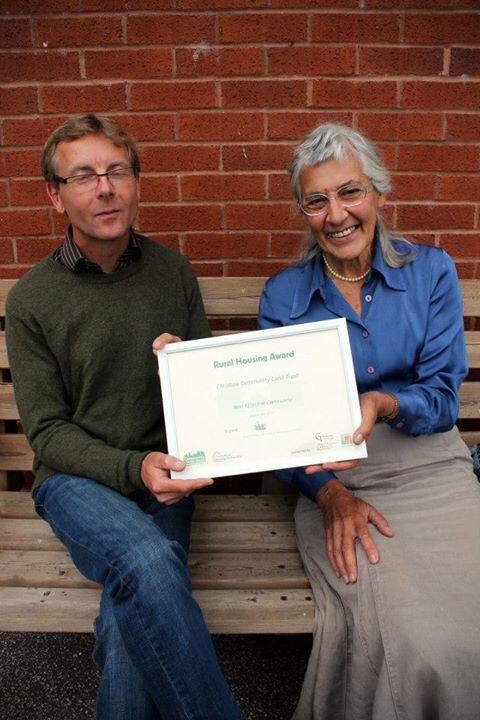 In March 2014, West Dorset CLTs (Marshwood, Upper Frome Valley, Toller Porcorum, Lyme Regis and Powerstock) meet with West Dorset and Weymouth DC and Wessex CLTP; all to discuss how the allocations system might work best for their communities and to discuss opportunities for further projects through the Localism Act.
And new schemes are emerging with Lyme Regis CLT/Yarlington, Powerstock & District CLT/Hastoe and Cheriton Bishop CLT/Teign:
The Wessex CLT Project has received generous support from a number of organisations over the past three years: Carnegie UK, Devon County Council, The Tudor Trust, West Dorset District Council, South Somerset District Council, Torridge District Council.
As required by the terms of our past grant funding, the WCLTP now recovers its costs from successful projects and receives cashflow support from the Tudor Trust and Wessex Community Assets. 
Contact:
steve.watson.cltproject@gmail.com
alison.ward.cltproject@gmail.com
Wessex Community Assets is a Full Member of the National CLT Network